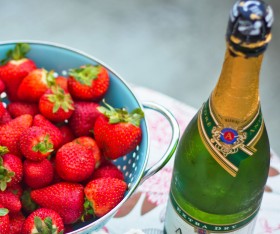 This is a very easy, yet elegant chilled soup recipe – a great addition to your summer dinner repertoire. It is a perfect brunch, luncheon, or summer time party recipe.
Strawberry Champagne Soup with Basil Goat Cheese Puree
Ingredients for Soup (to serve four):
1 quart fresh strawberries
1 cup apple juice
½ cup champagne
1 small shallot, diced
Black pepper to taste
Method for Soup:
De-stem strawberries. Wipe with wet cloth. Cut in halves
Put in blender with other ingredients. Puree on high, 1-3 minutes
If you have many seeds. Strain well.
Set aside, keeping chilled
Ingredients for Basil Goat Cheese Puree:
½ cup fresh basil
¼ cup of goat cheese
Vegetable stock or water. Just enough to blend till smooth
Salt & pepper to taste
Method for Puree:
De-stem basil
In boiling salted water, blanch basil for 30 seconds
Pour basil into strainer. Drop basil in ice cold water to shock & stop cooking. Drain. Put basil in bowl.
Add goat cheese and salt & pepper
Put all ingredients in blender. Puree until smooth.
Plating: Pour soup into chilled bowls. Drizzle with basil puree. Enjoy.