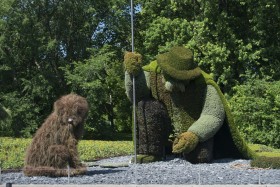 Have you heard about the amazing Montreal Botanical Garden? It's also called the Mosaïcultures Internationales 2013.  It is the TOP Montreal attraction right now – running through September 29, 2013! If you wander through the Montreal Botanical Garden this summer, you'll find furrow-browed gorillas peering from the shrubs, a row of ring-tailed lemurs walking down the road and massive red cranes towering over you. It's not an invasion from the zoo — it's mosaiculture, a type of horticultural art as wild as it sounds. Mosaiculture designers install carefully selected and pruned plants onto two- and three-dimensional designs, creating massive and surprisingly realistic living sculptures.
In this exhibit visitors walk along a 2-kilometer (1¼-mile) path to see the work of 50 participants from more than 20 countries. Each designer worked with a set plant catalog to sculpt something from his or her country's culture. Check out this slide show of the amazing Montreal Botanical Garden
Info: Mosaïcultures Internationales Montréal 2013: Land of Hope, Montreal Botanical Garden; June 22 to September 29, 2013; open every day from 9 a.m. to 7 p.m; $10 to $28
Montreal is just under 3 hours from Rabbit Hill Inn. So if you're planning a road trip to Montreal Canada to see the Montreal Botanical Gardens, Rabbit Hill Inn is the perfect place to visit on the way.