Fourth of July Weekend Celebration Schedule for New Hampshire and Vermont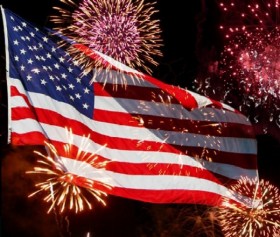 Here's a list of all the 2013 July 4th weekend celebrations near Rabbit Hill Inn.   If you plan your July 4th getaway right, you can actually take advantage of all three July 4th celebrations, and see three fireworks shows!
Danville, VT –  Wednesday July 3
Fireworks will launch at dusk over Joe's Pond
Barton, VT – Thursday July 4
From the Orleans Country Fairgrounds – Fireworks display at dusk
Lincoln and Woodstock NH – Thursday July 4
Get your flags ready for the Patriotic Parade at 2:00 pm. Starting in North Woodstock and continuing on Rt 112 through Lincoln.  At 7:00 pm,  head over to the bandstand at Soldiers Park in No. Woodstock for the free concert of Patriotic music.   At 9:30, the fireworks display in Lincoln light up the sky.
Danville, VT – July 5
Sugar Hill Campground – Fireworks at dusk
Burke Mountain, Burke Vermont – Friday July 5
Party starts at at 6:30 pm – enjoy a fun Barbecue, scenic chair lift rides ($5 per person), and live music (6:30 -9:30).  Fireworks display begins at 9:30 pm. Parking – $10 per car.
Franconia, NH – Saturday, July 6
Old Home Day Celebration & Parade, & Fireworks.  Head on over to the historic village of Franconia NH and experience an old time Fourth of July celebration. Enjoy the parade on Main Street, shop the Artisans Sale, the flea market & book sale. Compete in the famous Rubber Duck Race along the scenic Gale River.  Don't miss the BBQ at the Franconia Town Hall.  You also may want to check out the bargains at the Garnet Hill Outlet Store. In the evening, relax to live music at the gazebo (7:30 – 9:30).  At 9:30, enjoy the fireworks display at Dow Park.