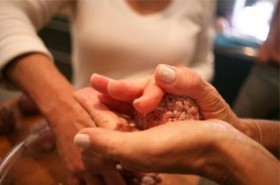 How often do you cook old family recipes? You know… the recipes that were handed down to you from your mom, her mom, and her mom?  As we all know, it's not just the recipes but the memories that surround it. The aromas that fill the kitchen bring you back in time.  Then, when you eat the dish, there is a special, joyful feeling that you have paid homage to your family.  It's so important to keep old family recipes alive.  If you are lucky enough to have precious recipes that have been handed down to you, don't forget them. Make them. Share them. That's what kitchens are all about – comfort, love, and family.
Kim Barone is sharing this wonderful Italian Meatball recipe from her Great Grandma Barone.  Hope you make them soon. Just reading this recipe brings me back to the heavenly smell in my kitchen as a child.  Thank you, Kim.
Great Grandma Barone's Italian Meatball Recipe
Ingredients:
1 1/2 to 2 pounds 85% lean ground beef  (90% is too lean)

1 pound ground pork

6 to 8 cloves medium chopped garlic

1/2 cup

fine

, good quality, (homemade) bread crumbs with italian seasonings in them. Just a touch of parsley, basil and oregano (only a pinch)

2 eggs

about 1 cup Parmigano Reggiano

3 Tablespoons fresh minced parsley

Salt and Pepper
Method:
Mix with your hands, but don't mush them too much. You want them blended but don't over work the meat, you don't want it mealy.

Now if you are doing this old school you make them into quite large meatballs (think the size of a small plum) and fry them in lard until medium to dark brown. You make them crusty on the outside so they keep their integrity in the sauce.

If you are opposed to using the lard and fry method, put them on a cookie sheet and broil about 5 to 6 minutes per side, turn once only, brush with a tiny bit of oil. Don't add to your sauce until they have cooled completely. We simmer in the sauce for 1 – 2 hours. We then remove from the sauce with a slotted spoon and place in a bowl and serve on the side with fried sausages which also have been in the sauce.
Now, I learned this with no distinct measurements. I was taught to smell the mixture to get the correct amounts of garlic, parsley and crumbs. When it's right it smells like heaven.
For meatloaf, just make the above and put in a loaf pan.  I have also done them with a good quality smoked mozzarella diced up in the mixture.  If you are doing meatloaf, as I mentioned, it makes a wonderful sandwich with garlic aioli the next day.
I highly recommend the cookbook called The North End Italian Cookbook by Margurite Buonopane. The recipes are all like our family's and even the most simple are amazing.  She is a lovely woman, we met her once in Ogunquit, Maine.  What a shock to have met the woman who wrote my favorite cookbook, a total coincidence.  Hope you enjoy!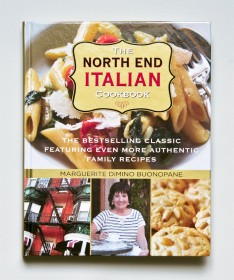 Fondly,
Kim Barone