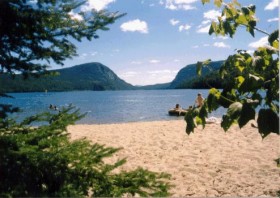 For those who never think of Vermont for a beach vacation, think again.  To kick off the unofficial start of summer, USA TODAY asked local experts to select one great beach in each state and the District of Columbia.  We are thrilled to see that our  wonderful North Beach at Lake Willoughby was chosen as Vermont's Best beach choice.
Carved by glaciers and hugged by Mount Hor and Mount Pisgah, 5-mile-long Lake Willoughby in Westmore boasts natural sand beach, crystal-clear, usually chilly waters that 312 feet deep. The unique experience of North Beach is the combination of all the typical beach fun AND the surrounding views of the glorious glaciers and mountains.  Unlike many "touristy" beach spots,  Lake Willoughby is 100% pure natural beauty.  No tee shirt shacks or noisy game arcades here.  Just a few general stores and places to rent canoes & kayaks.
Start planning your summer getaway to Rabbit Hill Inn. We can provide you with a delicious picnic, beach towels, and blanket to enjoy a fantastic day at Lake Willoughby North Beach.   And if you feel like taking in a hike, we'll have the trail info ready for the nearby Mt Pisgah trail.  There's a good chance you'll find yourself in a kayak for a few hours too.  What are waiting for?  Your Vermont summer vacation is waiting for you.  And you have several getaway packages to choose from too.