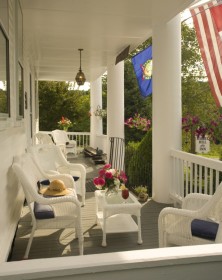 Fact is, porches DO cast a magic spell on us.  Without doubt, we are all drawn to them.  It's relaxing. It's sanctuary.  It's private space, yet very social.  For years we've watched Andy Griffith play guitar on his porch, while the gang listened.  The Waltons had long, deep conversations on theirs.  We are blessed to have many porches facing the glorious White Mountains.  Since 1795, these porches have hosted many a guest.  Last summer, I actually paid attention to our "porch activity".  Here are the Top Ten most popular porch activities here at Rabbit Hill Inn.
10. Enjoying the first early coffee (or the after-dinner cocktail)
9. Watching a rain storm and lightening show
8. Napping, napping, napping
7. Reading (which usually turn into napping)
6. Doing a STAVE puzzle (never, ever turns into napping)
5. Resting after a long walk or run (this does have napping potential)
4. Enjoying afternoon tea & pastries (or a cold lemonade)
3. Contemplatively staring at the mountain view, while remembering what quiet sounded like.
2. Enjoying the art conversation (private chats, meeting fellow guests, or catching up with the the innkeepers & staff)
1. Watching the amazing Hummingbird show! We must have at least 10 hummingbirds performing at any time.
Come join us on the Porch. You'll find yourself spending more time there than you anticipated.
Better yet… post a picture of you enjoying a Rabbit Hill "Porch Moment" on our Facebook page.
There could be a little sumthin' sumthin in it for you (wink, wink. nudge,nudge).