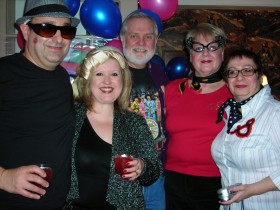 We just celebrated our 17th New Year's Celebration here at RHI. It just gets more special, more sentimental as each year passes. As we prepare for the celebration, we anticipate being with our New Year family, fondly referred to as "the gang".  Most of these folks have been "doing NY Eve" here for years, a few 20+, most 6-10 and counting.  And as each couple arrives, the energy builds, the welcoming hugs take forever… it's a family reunion.  Occasionally, a few new couples join the scene. They are quickly and warmly taken into the fold.
Our NY Eve has evolved into a 4 day event. It's not just about the fun & crazy party on Dec 31st. The gatherings start around Dec 29 (there is so much catching up to do). And no one departs until at least Jan 2nd.  These people simply enjoy being here, celebrating here, being with each other, we included.  Soon, the new folks join in, always finding a common thread, which brings them into the fabric of this welcoming family.
As the hosts of this precious tradition, how can we not be sentimental? And grateful?  These people are our friends, for real. We have shared a lot over the years, and we love them.
So we take pause, and realize that, as innkeepers, this is an amazing way to start each year. It helps us renew our dedication to caring for each guest (old and new) as a dear friend – that's what real innkeeping is all about.
As we all begin 2011, we wish that your new year filled with much joy, laughter, good health, and many, many blessings.
P.S. Take a peek at the New Year's video clips. You'll see what really went on!