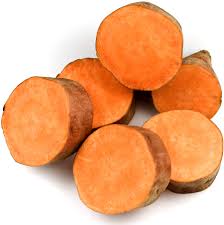 Cheesecake as a side dish to the main entree? Yet bet! This savory cheesecake is an incredible side to beef, poultry, lamb, pork… whatever you like! A terrific additional to a holiday meal. Give it a try and enjoy the taste of Rabbit Hill Inn at home.
Recipe  Yields 1 – 10″ X 2 ½" spring loaded pan
Ingredients
Part 1:
1/3 tsp nutmeg
1/3 tsp ground clove
2/3 tsp white pepper
1/3 tsp allspice
1 ½ tsp salt
Part 2:
1 ½ lbs cream cheese
2 egg yolks
2 diced pears
4 whole eggs
2/3 cup heavy cream
Part 3:
1 ½ cups graham cracker crumbs
2 ½ oz melted butter
Part 4:
2 lbs peeled, cooked, and pureed sweet potatoes
Method:
After having cooked and pureed the sweet potatoes in PART 4, add and incorporate the spices in PART I. Set aside.
With your electric mixer, set to medium high, beat cream cheese in PART 2  until soft. In a separate bowl, combine eggs, yolks, and cream and mix until incorporated. Add this to the cream cheese until well blended. Fold in the sweet potato mix. Stir in the diced pears.
Combine graham cracker crumbs and melted butter from PART 3 and mix until ingredients adhere. Coat spring pan with a vegetable shortening spray. Spread graham cracker mixture evenly on the bottom of the pan. Add the cream cheese-sweet potato mix. Cover the pan with aluminum foil and place in a water bath. Cook in a 325° F oven for about 1½ hours or until a knife inserted through the center of the cake comes out clean.