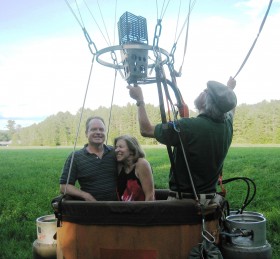 It was their 12th anniversary.  They wanted to getaway, relax, celebrate, and have some fun.  They pulled it off perfectly in their two-day Rabbit Hill Inn getaway.  So take notes… you can recreate this awesome escape for your next anniversary getaway.
* Checked into their luxury suite, with champagne and chocolate covered strawberries waiting for them. (Nice touch)
* Unwind on their private porch, soak in the whirlpool tub, and enjoy a romantic dinner at the inn, followed by a few cocktails in the Pub.
* Enjoyed a terrific breakfast. Headed off for great hike in Franconia Notch State Park. They chose the Bridal Veil Falls trail (perfect for an anniversary hike).
* Returned to the inn for their 90 minute in-room massages and some intense Stave Puzzle time.
* Then, it was time to meet Brian Boland for a stunning private sunset hot air balloon ride, with champagne toast at their landing spot.
* In the morning, another awesome breakfast before a leisurely drive back home.
Well done, Vin & Eileen.  This was a perfect anniversary getaway plan.  And thanks for sharing a few pictures too!  It was an honor to be part of your celebration.
For all those who are thinking about what they should do for their next anniversary (or just need a few days of combined R & R and fun), just give us a call.  We'll happily help you put together the best Vermont romantic getaway. If you're wondering about other activities, check out all the options here.