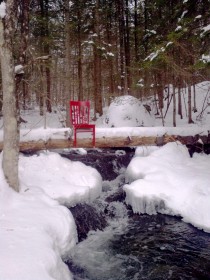 Well, we finally met the famous Red Chair.  This well-traveled Red Chair checked into the Rabbit Hill Inn for a few days of well deserved R&R.  For those of you who are unaware, the Red Chair is on a unique journey; making his way to all the most beautiful and interesting nooks and crannies of New England.  Without doubt, "Red" knows how to travel – staying at all the best inns, and discovering the lesser known places that make a trip more memorable.  If you were to plan a trip,  Red would be your "go-to" guy for all the hot travel tips.  His ongoing journey is well-documented on his popular, photo rich blog, RedChairTravels.com.
After weeks of being on the road, Red's visit to Rabbit Hill Inn was a well-balanced combination of exploration and pampering.  Yes, even a chair could use a little pampering from time to time.  We noticed right away that Red likes to mingle; he was even invited by fellow guests to join them on a horse-drawn sleigh ride.  But he also embraced the peaceful setting here – hiking the winter trails and wandering into the historic honor-system library across from the inn.
Red jumped at the chance to hang out with Chef Slayton, hung out with our cat, Reese, and surprised us by hopping on the tractor to help Mike with snow plowing.  After mentioning that his back and legs were weary, an in-room fireside massage seemed like the perfect ending to his perfect stay.  Red did not want to get off that massage table.  As Red departed, I admitted that I was a bit envious.  Red has experienced much more of New England than me.  But when the time comes to plan trips throughout this incredibly beautiful region, I know who to ask.
Check out the ongoing journey of The Red Chair Travels; it may help you plan the best New England trips you've ever imagined.