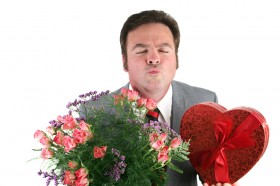 Forget the flowers, candy, and jewelry… Getaway gifts ranked TOP Valentine gift choice!!!
Feb 7, 2013. The U.S. Travel Association released the results of an interesting research survey. No gift can equal travel when it comes to relationships.  As Valentine's Day approaches, this survey reveals that travel has a very positive effect on relationships – with 63% of those surveyed saying a weekend getaway is more likely to spark romance than gifts.  Here are some of the highlights of this consumer survey:
•    While almost two-thirds saw travel as way to rekindle romance, only a little more than a third saw receiving small gifts the same way; and only 15%  rated getting big gifts like jewelry as important to improving romance.
•    Seven in 10 couples believe traveling inspires romance.
•    Nearly two in three couples say being romantic is an important reason to travel with their partners.
•    Many agree that their sex life improved after traveling together
•    Almost 60% of couples say that being more intimate is an important reason to vacation together. Among couples that did not take a trip together in the past year, nearly one in four say they do not have enough time for intimacy and sex.
There you have it.  Trust us, we have seen this prove out with our guests for several years. We are often told (either verbally or in our room journals) that their RHI getaway allowed them "to reconnect", "fall in love again", "enjoy each other without the hectic daily distractions", etc.
It doesn't have to be a BIG expensive trip. It doesn't have to be for an entire week.  Just a few days together now & then has an amazing impact on any relationship.
So, the next time you are racking your brain to find the BEST gift idea… remember that getting away is the best gift you could ever give each other.  We would be honored to be part of your special gift-giving and to host you for that next well-deserved romantic escape.  Put a gift certificate in a card that promises a special time away.  Then, together, you can plan the perfect escape and have something to look forward to.
A little peek inside the pages of our room journals…