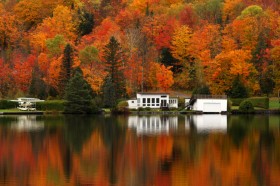 Thank you to all those who have emailed and phoned to check on us after Hurricane Irene. Your heartfelt concern means so much to us.  We are pleased to report that Rabbit Hill Inn was very fortunate.  Despite the fact that the eye of the storm passed directly over us, we sustained no damage at all.  Thankfully, the lights never even blinked.  And all roads leading to Rabbit Hill Inn are fine.  We were able to provide full service to 17 guests through the entire storm.  They ate well, played games, and tackled several Stave puzzles. And the Snooty Fox Pub was a popular spot too!
Stores in the Northeast Kingdom of Vermont and Northern New Hampshire are open as are area activities.  Kingdom Trails, Franconia Notch State Park, Cannon Mountain Tramway, and Alpine Adventures Zip Line Tours are open.   Cabot Cheese factory and Ben & Jerry's are ready for you.  The good news is, there is much to enjoy here.  Without doubt, the waterfalls must be amazing now!
Many news reports give the impression that all of Vermont is devastated.  Yes, there are a few areas that are heavily affected and damaged severely (mostly south of here). However, much of the state is still passable and operating as usual. Those that were affected are bouncing back at impressive speed (Vermont ingenuity is truly amazing).  All major highways are open. Sure, some local roads and bridges are closed, but there are others ways to get around.
Like you, our hearts go out to those in Vermont who have been affected by Hurricane Irene.  If you are wondering if you can help, yes, you certainly can.  Now more than ever, Vermont needs your support.  Visit Vermont now! Come and enjoy the glorious fall colors.  Take that getaway that you've been thinking about.  You'll have a wonderful time AND support Vermont when it needs you the most.    Here are few links that you might find helpful:
http://www.vermontvacation.com/
http://selectregistry.com/Inns.asp