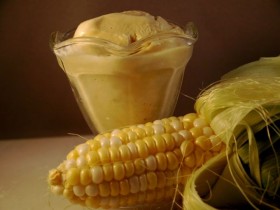 YES!  Sweet Corn Ice Cream!  You really must try this handmade ice cream recipe. When Phyllis (our Pastry Chef) offers this on the dessert menu, guests BEG for more!!  Of course, she recommends using the freshest sweet corn.  But, in a pinch, you can use fresh frozen corn.   Brace yourself for all the compliments on this one.
We want to hear from you – Share your results & pictures with us on Facebook.
Ingredients:
5 ears fresh sweet corn
4 cups heavy cream
1 cup of sugar
7 egg yolks
2 cups half and half
Vanilla Bean, split
Method:
First cut the raw kernels from the ears of corn.
Place the kernels, the cobs, and the split vanilla bean, in the heavy cream and simmer until reduced by half.
Add one cup of sugar, bring back to boil and remove from heat. Remove the cobs and vanilla bean
In a blender, puree this cream mix with the kernels until fully pureed. Return to the heat and simmer
In a bowl, add some of the hot mixture to the eggs yolks while whipping.
Return this egg mixture to the boiling puree stirring constantly until it lightly thickens.
Strain through a chinois or fine mesh strainer.
Add cold half and half and cool mixture in fridge.
Freeze this mix according to your ice cream freezer directions.
Enjoy all the applause and compliments that will come your way.