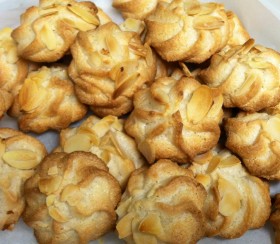 This is an easy gluten free cookie recipe with only four ingredients.  Almond Macaroons are light, airy, and oh-so-delicious. They are always a big hit at Rabbit Hill Inn.  And everyone always asks for the recipe.  Be warned, you may want to make two batches at a time – they go FAST.  Try them right now.  Send your comments to us on our FaceBook page.
Almond Macaroon Cookie recipe – recipe yields approx 40 cookies 
You will be piping out the batter, so have a pastry bag (or makeshift pastry bag) on hand.
Ingredients:
1 lb almond paste
10 oz of sugar
4 egg whites
sliced almonds
Directions:  Preheat oven to 325 degrees
In a medium bowl, mix together almond paste, egg whites, and sugar.
Line baking sheets with parchment. Pipe cookie batter onto parchment to your preferred size, about 2 inches apart
Sprinkle tops with thinly sliced almonds
Bake until a light golden brown. Cookies will be soft to the touch. Allow cookies to cool.
** These cookies freeze very well.