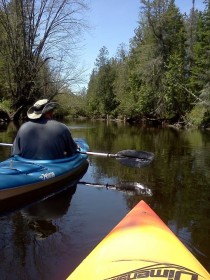 You have GOT to get on the water!  Vermont's best kayaking and canoeing is here.  Imagine 40,000 acres of lakes and 4,000 miles of rivers and streams define the Northeast Kingdom and White Mountain regions. These waterways, both large and small, offer boat loads options.  Choose placid waters for leisurely paddling, or more active rivers and larger lakes for more challenging paddling.
A few of our favorites are Clyde River, Lake Willoughby, Crystal Lake, Harvey's Lake, Joe's Pond, Shadow Lake, Echo Lake in Franconia Notch State Park, NH,  the Connecticut River and Moore Reservoir.
Getting on the water is easy – you don't need to bring a thing with you. Gear and boat rentals of all kinds are available. To make it even easier, shuttle services are available to get you back to your starting point.  Just tell us what you prefer, and we'll match you up with the perfect outfitter.
Check out our popular Lazy River Paddle Add-on Package: includes kayaks for 2, a great day on Clyde River, full drop-in & pull-out services, great picnic for 2, and a 3 course dinner at RHI that evening. This is what your day will look like:
Watch this: