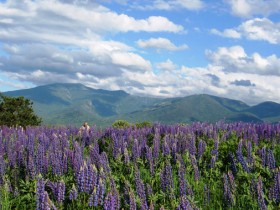 Calling all nature and flower lovers…  The Fields of Lupine Festival, now in its 20th year, is scheduled for June 1-15, 2013.  People will flock from far and near to admire, photograph, and walk through this amazingly brilliant field of lupines. It's a rolling sea of vibrant purples, pinks, blues and whites. As a bonus, these long-lasting blossoms attract equally dazzling butterflies and create a breathtaking floral display against the majestic backdrop of the Franconia, Presidential, and Kinsman Mountain ranges.
You are guaranteed abundant photo and recreational opportunities in the Northeast's most spectacular mountain region. The communities of Franconia, Easton, Sugar Hill, Bethlehem, Littleton and Lisbon join together to showcase this colorful pageant. And it's less than 20 minutes from Rabbit Hill Inn
Complementing the natural beauty of the floral show, the Fields of Lupine Festival offers special events within the festival.  Retailers and restaurants will be offering, promotions, discounts, entertainment, and refreshments, as will museum and historic inn tours, an open-air market on Main Street Sugar Hill, and other locations throughout the communities all month long.  Here is the daily & weekly schedule of events.
Join us for a well-deserved summer getaway this June and  check out the breathtaking fields of lupines.  Some say it's the "fall foliage" of summer!